Fruit Wines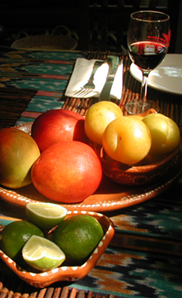 ORCHARD BREEZIN' MIST
BLACK CHERRY PINOT NOIR
This off -dry ruby red wine presents succulent flavours of fresh, ripe black cherries balanced by a subtly touch of tannins. Light and fruity this thirst quencher is a great addition to any summer festivity.
BLACKBERRY MERLOT
Reward your passion for intense exotic flavours with this garnet coloured red wine. Colourful tastes of juicy blackberries and ripe currants make this wine just the thing for warming up an evening with good friends.
BLUEBERRY SHIRAZ
Imagine an inviting bowl of plump and juicy sweet blueberries and add a splash of Shiraz. Experience the exciting combination of freshly picked dark fruit flavours with a delicate touch of tannins and structure. This off-dry red wine is best enjoyed chilled on a warm summer day.
CRANBERRY CHIANTI
The crisp taste of fresh cranberries is harmoniously blended with the fruity, velvety richness of Chianti in this sweet, plum- red wine. Its robust, yet elegant, sweet berry flavours make it the perfect poolside companion.
POMEGRANATE WILDBERRY ZINFANDEL
This red wine brings together juicy and sweet flavours of wildberries and the rich crisp notes or orchard fresh pomegranates. Combined with the rich flavour of Zinfandel, this delicious elixir is best enjoyed chilled.
SEVILLE ORANGE SANGRIA
Discover this popular red wine based beverage that promises to whisk you away to the sandy beaches of Spain with it`s fresh and sweet juicy flavours balanced by the bitterness of the Seville Orange. Bring out your creative side by adding some chopped fruits or simply enjoy topped up with chilled club soda.
RASPBERRY WHITE ZINFANDEL
This blush wine offers the succulent, mouth- watering flavors of sweet, ripe raspberries blended gracefully with the delectable refreshing character of a White Zinfandel. A "must have" for picnics and other casual social events.
STRAWBERRY WHITE ZINFANDEL
The distinctive flavours of White Zinfandel are enhanced with farm fresh sweet strawberries. This refreshing blush wine presents stimulating strawberry aromas framed against an uplifting off-dry palate of ripe red fruit and crisp acidity.
GREEN APPLE GEWÜRZTRAMINER
This popular pale straw- coloured wine is intensely flavourful, reminiscent of a freshlycut green apple. The pleasant soft acidity and luscious, fruity aroma of this crisp refresher make it perfect for a hot summer day.
PEACH CHARDONNAY
The luscious scent of ripe peaches explodes from this exceptionally crisp, flavourful wine. It blends the varietal notes of Chardonnay with the natural sweetness of juicy peaches. Pale straw in colour, this wine is a natural addition to a lazy afternoon by the lake, or an evening barbecue.
STRAWBERRY RIESLING
This light refreshing wine offers the delightfully sweet aroma of fresh- picked field strawberries blended with a rich melange of honey, tropical fruit and floral Riesling flavours. Try it chilled for added invigorating freshness.
SUPERFRUIT COLLECTION
ACAII RASPBERRY
Acai (pronounced ah-sigh-ee) is grown in the palm trees of the Amazon rainforest and said to be one of the most nutritious foods in the world. It has 15 times greater antioxidant properties than grapes and a great source of amino acids. It is thought to boost energy, improve digestion and create mental clarity.  This small dark purple fruit is so tasty, a blend of berries with a hint of chocolate, that you can hardly believe that it is also good for you.  Combine this intense fruit with sweet, ripe raspberries and Cabernet Sauvignon to create a powerhouse of a wine.
SEASONAL
CRAN APPLE CHARDONNAY
Our Holiday Cran Apple Chardonnay is a low alcohol white wine, featuring tart green apples balanced out by smooth white cranberries to create an easy drinking wine with a crisp, refreshing finish. Enjoy sipping this delightful vintage at holiday gatherings, perfect as a hostess gift or for sharing with special friends and family during the holidays. Available in the fall for a limited time.
ISLAND MIST
GREEN APPLE RIESLING
The flavour sensation of biting into a crisp, crunchy green apple, with a pleasant tartness followed by a delicious juicy finish. Natural apple flavours blend perfectly with the lively apple notes that are one of Riesling's delightful trademarks. Clean, cool and crisp – a wonderful balance of apple flavour with the slight acidity and firm character of the Riesling grape.
KIWI-PEAR SAUVIGNON BLANC
Like Sauvignon Blanc grapes, kiwi fruits grow on vines and have a luscious combination of pineapple, and banana flavours, which meld beautifully into the soft, rich pear aromas of this wonderfully refreshing beverage.
PEACH APRICOT CHARDONNAY
Delicious peach and apricot flavours are blended with the world's most popular white wine variety for a thirst-quenching delight. Chardonnay quietly contributes a subtle dryness and perfectly balanced acidity, with hints of its own citrus and fruit flavours. The result is irresistibly refreshing and perfect for any occasion.
POMEGRANATE ZINFANDEL
Pomegranate is a wonderful summer flavour that blends so well with Zinfandel. The Pomegranate's earthy, rich juice balances with Zinfandel's spicy, robust grapes creating a delicate spicy sweetness that has a particular uniqueness on the first sip and leaves you wanting more.
WHITE CRANBERRY PINOT GRIS
Winexpert's White Cranberry Pinot Gris bursts with the sweetness that has made White Cranberry a unique and popular flavour in juice, and now Winexpert brings that flavour to you as part of our refreshing line of Island Mist varieties. This wine is very easy to drink and is perfect for backyard barbeques and sharing with friends.
WILDBERRY SHIRAZ
Ripe, intense, concentrated berry fruit flavours account for the meteoric popularity of Shiraz, an irresistible red grape variety and a natural to get its own Island Mist berry pairing. Did we say berry? We meant berries! We've matched up a special blend of wild field berries blended seamlessly together with delicious, juicy Shiraz. Taste blueberries, strawberries and blackberries, with an exquisite balance of refreshing fruit and acidity that will have you at the bottom of your glass before you know it.
NIAGARA MIST
PINK GRAPEFRUIT
This wine is bursting with thirst quenching citrus flavours. Sweet yet slightly tart, this incredibly refreshing wine will cool you down on the hottest of days. Pair this citrus treat with a fresh fruit platter and mild cheeses.
TROPICAL RIESLING
Bursting with aromas and flavours of juicy sweet pineapple, mango and kiwi, Rieslings subtle citrus notes create the perfect clean crisp finish. A delicious refresher any time with a tangy Asian salad or chicken stir-fry.
…